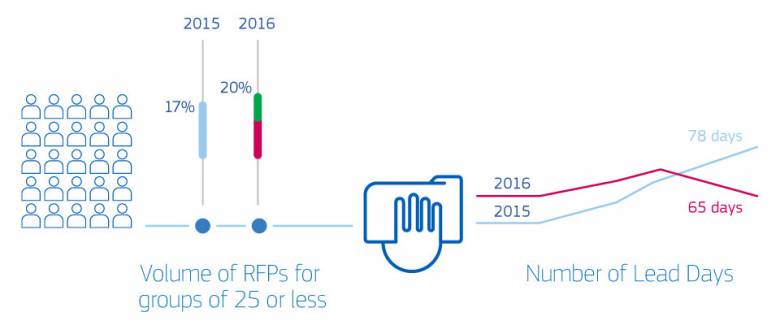 Leads! Leads! Leads! How can you effectively manage all the leads you're receiving? Consider the foundation of your business challenge. Being able to connect to multiple channels is ideal for helping drive more leads to your property; routing these leads through a central location will allow you to track all of the potential new business. But what if you don't have the time or the resources to effectively evaluate and respond to all these leads?
Earlier this week we shared a blog post stating that MeetingBroker has processed over $380B in RFPS since its inception in 2006. We know that's a lot, but what does that mean for your business? We dug deeper into the data and reviewed the size of group RFPs for 2015 and 2016 (year-to-date).
Interestingly, we found that the volume of RFPs for groups of 25 people or less increased 3% from 17% in 2015 to 20% in 2016.
Additionally, the average number of lead days decreased by nearly two weeks from 78 days in 2015 to 65 days in 2016.
[bctt tweet="#Infographic Increase in RFPs for small groups from 2015 #meetings #eventprofs" username="amadeushosp"]
So, while properties are seeing an increase in volume for small group events, they're receiving these leads with much less lead time.  With smaller groups, efficiency must be created to ensure profitability.
What can you do to succeed?
The dynamics of how consumers interact with the world around them is constantly changing.  In just the last few years we have seen rapid adoption of many forms of technology in daily business interactions. No longer a "nice to have," it is now necessary to offer multiple ways to connect with your venue, so why not empower your potential customers the ability to directly book function space for these smaller groups.
Exposing your function space publicly for instant on-line booking capability offers many advantages:
Lowers your cost of acquisition and delivery for smaller group business.
Optimizes your function space utilization while still maintaining full control over how your function space is booked.
Adding an increased level of value to your prospects and customers by empowering them to interact with you in their preferred method.
Offer high-touch, high-value service on larger group business while still meeting the needs and working styles of smaller groups.
But how exactly does this work? With our DirectBook solution, you can allow meeting planners the visibility into available function space, guest rooms, function packages and pricing (all based on your specific business rules). Since DirectBook was built as a seamless extension of your Delphi solution, when the planners book their small event directly online, the booking and event details are automatically created in your Sales & Catering – Delphi, saving your team time and money!
The data shows that the demand for small group events is increasing and lead time is decreasing.  Adding this powerful tool to your team's toolbox will enable them to efficiently meet the need for this segment while ensuring profitability for your organization. Also considering that planner demographics are changing and with that comes increased dependencies on technology, now is the time to differentiate your venue. Let us show you how.
---