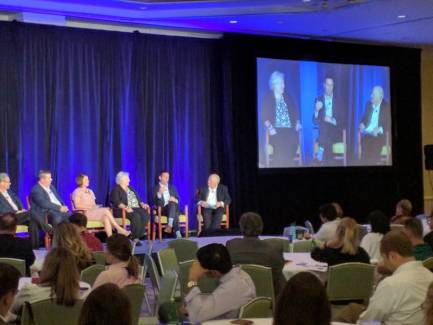 At the recent Amadeus Hospitality Customer Conference, we hosted a noteworthy customer panel discussion addressing the future of technology in hospitality.  Hosted by Mark Haley of The Prism Partnership, the hour-long session moved quickly as five attendee panelists shared their valuable insights and perspectives.
At the outset, Mark introduced the concept of "driving operational excellence" with a few primary pillars: the impact of fragmented systems, establishing strategies for excellence, and implementing best practices. There were so many insights gained, but for brevity's sake, I'll share just a few highlights today.
Right from the beginning, Peter Palli, Senior Director of Sales & Revenue Management Systems with Hilton Worldwide shared that the heart of Hilton is their people, not their technology.  Their goal is to deliver an exceptional guest experience as the gateway to business success and growth.  It was reassuring to hear that even with all of today's technological advances, Hilton truly still has hospitality at the heart of their business.
To add to this Lisa LoRusso, VP of Global Reservation System Product Management with IHG, shared that IHG's partnership with Amadeus to build the leading GRS system is based on the fundamental goal of ensuring that IHG provides their teams with the most innovative solutions to truly put their customer at the center of their business. Empowering team members to step out from behind the front desk and offer personalized guest experiences, using technology as an enabler, not being hindered by the limitations of dated technologies.
Carrie Campbell, VP of Sales & Services for Fenway Park (Go Red Sox!) shared the benefits of increased staff productivity, collaboration and communication since implementing Amadeus' Sales & Event Management solutions. This all leads to better owner, staff, and guest experiences. Illustrating the improved collaboration, Carrie shared that prior to implementing a solution, staff had limited visibility into customer information, space availability, or events in-house.  On one occasion, facilities inadvertently painted a seating section just hours before guests were scheduled to arrive for an event in that space. Now, with improved processes and collaboration they have more time back in their day and can avoid these stressful situations.
Leveraging technology as an enabler, Keith Credendino, VP of Global Property Products and Systems for IHG shared the value of making sure that solutions are nimble, integrated, scalable and standardized.  This supports both the global enterprise and property level needs.  Peter added that these areas also create a team of individuals trained on standard processes and procedures who then have transferrable skills that can offer value to other properties.  Lisa added that when technology is used as an enabler, it offers an opportunity for team member growth as those who may not have a strong skillset in particular areas, perhaps math and revenue management, could learn to leverage the tool to effectively deliver on the needs of these very key roles in an organization.
"Don't over complicate a ham sandwich,"
Perhaps my favorite quote from the panel was offered by Mike Beardsley, Senior VP of Sales and Marketing for Aimbridge Hospitality.  He shared that technology should be transparent and should not overcomplicate the process.  "Don't over complicate a ham sandwich," was Mike's way of illustrating the need to keep the technology simple. It should act as an enabler and allow the property staff to focus on the guest.  Keith added, "Success is when it just works. It's invisible." He also shared that there is a need to meet the consumer on their terms.  Offer them the tools they need to build their experience, even if it means finding ways to do business that you haven't traditionally offered.
Leverage technology in a seamless way to improve face to face interactions. This is where you find success.
The overall feedback from the panel was overwhelmingly consistent: leverage technology in a seamless way to improve face to face interactions. This is where you find success. Ensure team members have the appropriate tools to deliver on guest expectations. The consistency of business processes, increased collaboration, as well as streamlined and professional engagements, increases positive customer interactions leading to a better guest experience and business growth.
There are so many specific areas where we can dive deeper into the topics discussed. Watch for future posts on these topics.  Do you have a particular area where you'd like some additional insights? Let us know and we will prioritize these topics!