Adapting your space and service
Meetings and events are perhaps more impacted by COVID-19 than any other segment of hospitality. With the trajectory of the virus in flux, a significant feeling of global uncertainty, and a widely recognized concern of community spread, the near-term outlook for large events is still unclear. While we ponder what recovery may look like in the event space, we can plan alternate strategies now for both revenue streams as well as for smaller events.
When in-person meetings and events resume, the first are likely to be smaller with local attendees, requiring significant physical distancing and cleanliness to ensure all attendees feel comfortable. The first consideration should be how you can adapt your current space for more appealing events during physical distancing.
Do you have an outdoor space that can be used in a new way?
Can you deliver a small gathering with an intimate and inviting experience?
As an example, Gurney's in Newport, RI is promoting a new offering with its Little Lighthouse Gatherings.
Adapting your space
In regions where gatherings are returning, there are likely to be new requirements to follow for physical distancing. These requirements or guidelines have significantly increased the square footage needed for each attendee. The most common global standard is roughly one meter or three feet of distance between people at all times, as per the World Health Organization, to reduce the possibility of virus transmission.
Such a distance requires venues to rethink their spaces from set-up to capacity to foot traffic paths. To ensure proper distancing, venues will be required to effectively decrease the capacity of each space on their property.
For example, a room that may have previously held 100 people at 8-foot rounds may now only hold 50 people, classroom style, with one person per table. A standard board room may no longer be a viable option to host a 12-person meeting, requiring a larger space.
Action steps to adapt your space:
Reimagine larger suites and outdoor spaces to host meetings and events.
Reevaluate the capacity for each of your spaces and with each layout available to accommodate appropriate social distancing between people.
Consider designated entrances and exits where possible, reducing face-to-face exposure in a narrow entranceway.
Incorporate a plan to provide additional protective equipment and sanitizer at "cleanliness stations."
Update your website and event materials to showcase the new options, spacing, and cleanliness measures you're taking.
Create room diagrams to showcase the changes in the space layout and the property's ability to adapt to the planner's needs.
Partner with planners to create a seating chart well in advance. 
Adapting your service
In addition to spacing, it's imperative to reduce the amount of close interaction between people and staff in these early days of events returning. By reducing interaction, you will impact the type of service you are able to provide from capacity, to event type, to food and beverage offerings. The socialization that comes from mingling at a cocktail hour will either not be possible or will simply not be the same while COVID-19 is still prevalent globally.
It's important to consider that while attendees of an event may feel comfortable interacting in a small group with each other, their comfort may decrease outside of the four walls of their venue space. Consider how you can adapt your meetings and events to limit the amount of movement and location shifting within your property. Think through how you can space out various groups to reduce the amount of interaction between groups on site. Finally, take care to limit the interaction between attendees and your staff, so everyone is more at ease.
Action steps to adapt your service:
Guide planners through agenda changes to reduce the amount of movement mid-event.
Re-evaluate your existing A/V equipment to host hybrid events.
Refrain from share-style dishes and shift buffet-style gatherings to sit-down plated meals.
Serve individual water bottles rather than shared water pitchers or beverage stations.
Compose 'grab and go' options for lighter meals and snacks.
Suggest planners consider mobile check-ins, if applicable.
Make sure all staff are wearing protective gear and wiping down tables and chairs visibly for attendees between any transitions.
How Amadeus Delphi Diagramming can help
Amadeus Delphi Diagramming for meetings and events is an interactive, cloud-based hospitality software program that helps event planners and venues collaborate throughout the booking lifecycle to design customized event floor plans and layouts.
At Amadeus, we know the experience of COVID-19 is particularly challenging for venues. In an effort to support you in addressing planner concerns, we've released new updates to our Diagramming solution. We hope these changes save you time and provide the information planners need to confidently host their events at your venue.
Distance override – Easily update the distance set between tables and chairs as regulations change in your region.
Capacity override – Easily edit the capacity for each space to adjust to physical distancing regulations.
Safety resources – Add frequently used resources like cleanliness stations, grab and go food stations, traffic flow, hand sanitizer, etc. right to the room diagram so that you have a clear plan prior to the event.
Update chair distances – Quickly revise chair placement at each table to space meeting attendees safely.
Social distancing tool – Identify and adjust seating arrangements that don't meet spacing requirements.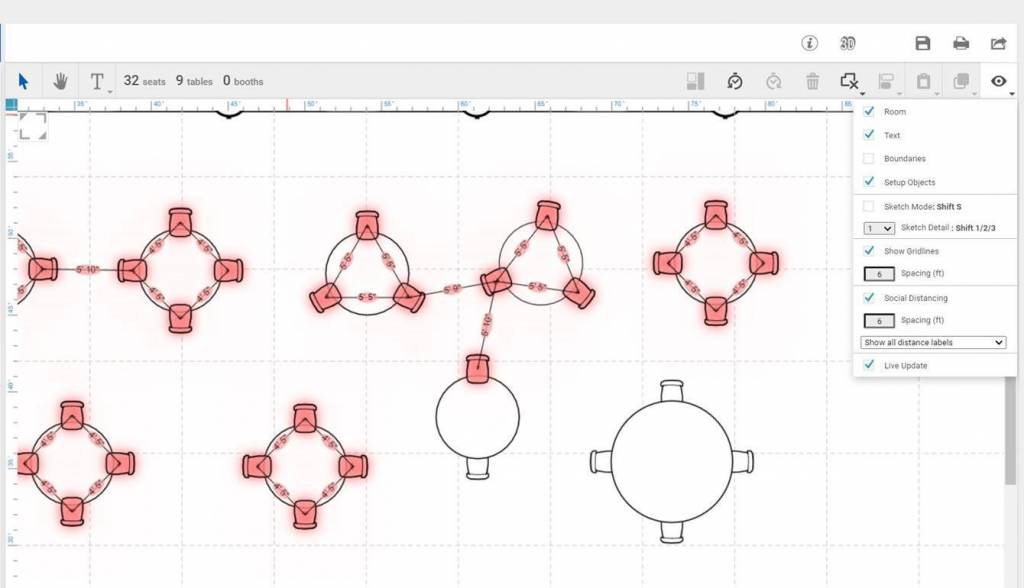 The new social distancing tool in Amadeus Delphi Diagramming shows chairs in red when placed in a location not compliant to the specified distance requirement. Users can view the measurements between chairs to make corrections and the error notification will disappear. 
Properties must be creative in how they repurpose space and invest in new technology to augment their available capacity. Physical distancing and safety measures, according to local regulations, will be the primary concerns for all planners looking to shift or rebook events in the near future. Hotels and venues around the world will win back client trust so that planners can continue to do what they do best – create exceptional event experiences. Learn more about how Amadeus Delphi Diagramming can help you design physically distanced event diagrams here.
To view a recording of our complimentary demonstration of the social distancing tool in Amadeus Delphi Diagramming, click here.