PMS Buyer Mentality – Infographic Series 2
Our job as technology providers is to keep our finger on the pulse of the industry and develop modern day solutions for modern day hoteliers. In order to better understand the challenges they face, we reached out to 200+ individuals last year with influential roles in the property management system (PMS) procurement process. We have already revealed the most popular features driving purchasing decisions for a PMS solution in our first infographic series.
However, the problems can vary by hotel operation type. As many of us know, the hotel industry is multi-dimensional and fragmented, which can play a role in how hotels choose their software. This became apparent when we pivoted our survey data and applied it to the three main hotel operational models.
Chain hotels – corporate owned or franchised.
Management companies – management group overseeing hotel operations.
Independent hotels – independently operated properties.
Here is what we found to be the biggest challenges with PMS solutions by hotel operation type:
Independent Hotels
Independents need a simple-to-use solution that enables easier adoption and employee training. This group is simply not inclined to spend money or time on application onboarding.
Management Companies
Management companies admit to being stressed out by payments. This could be because they work for multiple hotel owners and stakeholders while simultaneously taking responsibility for handling customer credit cards and data. This is amplified further when hotel management duties cross international borders.
Chain Hotels
Hoteliers never like change. A greater number of centralized technologies combined with many diverse stakeholders (franchisees, users, customers, brand ambassadors) can leave a chain vulnerable to operational difficulties when swapping out PMS solutions across brands.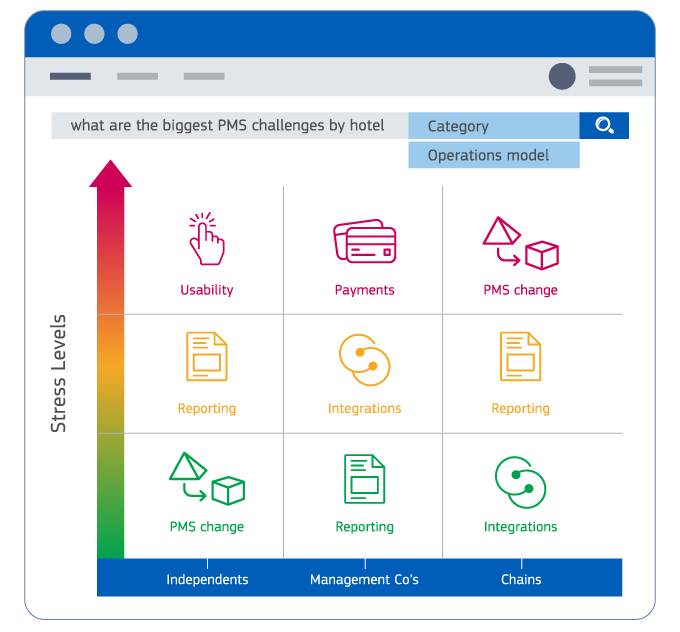 To determine what the right property management system may be for your property, talk to one of our experts today!
---
Built with Microsoft Azure
Amadeus Cloud Property Management Solutions are built utilizing Microsoft Azure.
Learn More about Azure