Overview and Challenge:

Warwick International Hotels now includes more than 55 prestigious Hotels, Resorts & Spas worldwide located in city centers and resort destinations in the United States, Europe, Asia, Bali, the South Pacific, the Middle East and Africa.
At the beginning of 2015, Warwick was looking to significantly enhance and centralize their email marketing programs after they had been suffering from greatly reduced open rates and diminished conversions. Overall this translated in less than optimum exposure and results on a corporate, regional and property level, specifically since 60% of the Warwick subscribers and guests used mobile devices for their email engagement.
Warwick International Hotels partnered with NewMedia Digital to develop a sophisticated email marketing program to address this challenge.
Strategy:

NewMedia Digital generated a comprehensive email marketing program for Warwick International Hotels.
An important element of this overall strategy was to design a full suite of email marketing templates using innovative responsive design and specialize coding to include corporate newsletters, property level target offers and amenity level opportunities. By doing so, this would create brand message continuity and enhance the prospects of engagement, especially for the mobile user which represented the lion share of the Warwick database.
Details:

During the promotion, NewMedia Digital created email designs for the following market segments using responsive design:
Corporate" World of Warwick" leisure newsletter
Regional corporate marketing (USA, Europe, Mideast, Pacific); Custom property level target offers
Groups, meetings and events templates
Travel agent marketing
Restaurant and spa amenity opportunities
In addition to the above, NewMedia Digital carried out the following in order to optimize conversion and effectiveness of the overall program:
"Cleaned" and centralized database on a corporate, regional and property level
Organized the Warwick database for enhanced segmentation and personalization
Leveraged a "best of breed" email service provider, NewMedia Connect, for optimal deliverability with sophisticated metrics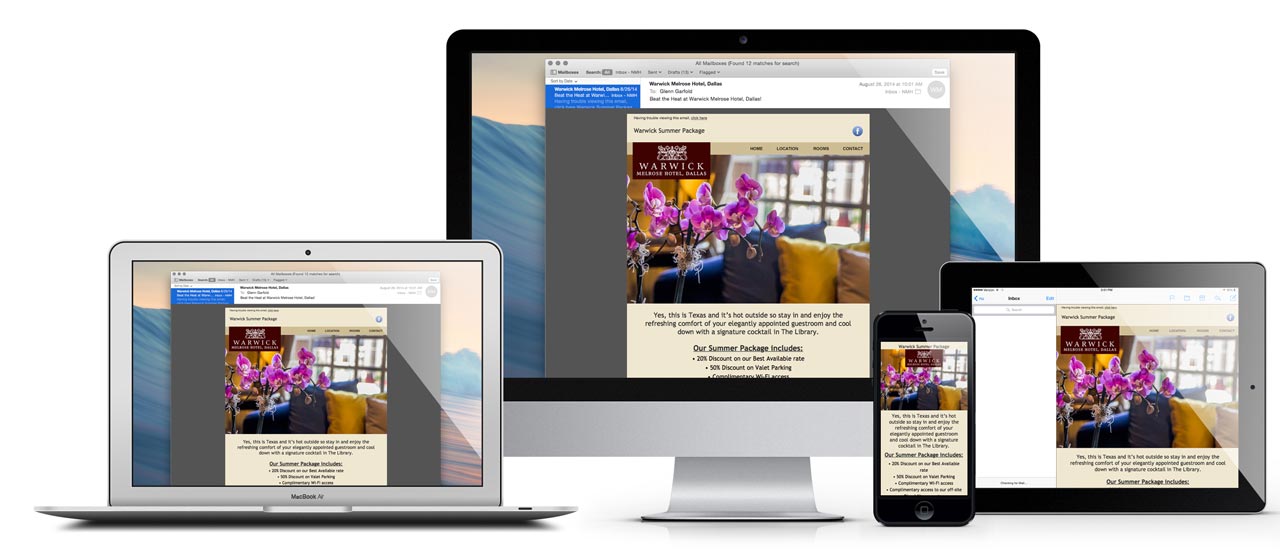 Results:

The comprehensive strategy was extremely successful leading to enhanced conversion and revenue:
Open rates doubled, increased 100%, averaging 20% collection wide
Median unique click rates elevated from 3% to over 10%
Double-digit "Click to Open Rates" for mobile devices is regularly; experienced for property level campaigns fostering revenue conversion
A major contributing factor of the results described in this case study was by executing responsive design and email coding making it easier for mobile consumers to open and read an email and then book a reservation. Moreover, leveraging elegant designs with proper coding utilizing email marketing best practices realized message continuity for Warwick International Hotels consistent with their global branding. Overtime, this will most certainly affect a steady climb in revenue as the integrity of messaging and database lifetime value is enhanced.